King's Lynn incinerator: Exit strategy report recommended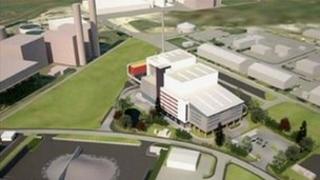 An independent report to establish the full cost of Norfolk County Council pulling out of a waste incinerator scheme in King's Lynn has been advised.
The £500m plant proposed on Saddlebow Road has faced criticism for years and results of a public inquiry into the project are expected this winter.
It has also been advised another report sees whether the council took undue risk in signing the plant's contract.
The recommendations will be discussed by cabinet at a later date.
Plans to assess the viability of exiting from the energy from waste scheme came about after a three-party alliance was formed at the county council last month.
The former Conservative-led authority was heavily criticised for giving planning permission to the incinerator, despite objections from other parties at the council, MPs, the Tory-run West Norfolk Borough Council and residents.
If the plans are subsequently refused by the Secretary of State for Communities and Local Government following the public inquiry, developer Cory Wheelabrator could be awarded up to £20.3m in compensation.
However, if permission is granted, it is believed the council would have to pay significantly more - up to £90m - if it wanted to exit the project.
Withdrawal would also lead to the loss of a waste infrastructure grant worth £169m.
Last month, the former leader of Norfolk County Council, Derrick Murphy, said backing the incinerator was "political suicide" for him.