Former BBC presenter Michael Souter faces further charges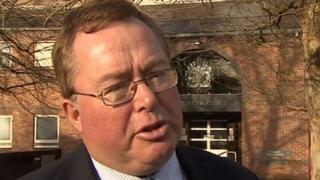 A former BBC radio presenter awaiting trial for alleged sex offences against children is set to face further charges over the possession of indecent images.
Michael Souter, 59, of Loddon, Norfolk, is charged with 18 sex offences against boys, as well as a charge each against a man and a woman.
The former BBC Radio Norfolk presenter has denied the charges.
The prosecution has now applied to add eight counts of making indecent images of children to the indictment.
The original allegations date back to between 1979 and 1999.
Prosecutor Andrew Shaw applied to amend the indictment at Norwich Crown Court after Mr Souter's computer was examined by police.
Mr Souter was not present as Judge Mark Lucraft granted the application but allowed his defence team time to consider the charges, which are likely to be put formally at a later date.
The original charges, including serious sexual offences and indecent assault, relate to six boys, including two under the age of 14, four under 16, and a male and a female, both over 16.
Mr Souter worked for BBC Radio Norfolk from its launch in 1980 until the 1990s.
He is due to stand trial in September.