Hopton cliffs eroded through winter are restored with £950,000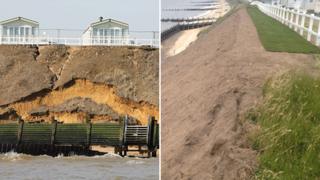 Cliffs at a holiday resort in Norfolk that had collapsed after winter winds and high tides have been restored.
The Holiday Village in Hopton had been in danger of losing caravans and a nearby beach because of erosion.
The owners of the caravan park, Bourne Leisure, and Great Yarmouth Borough Council have spent nearly £1m shoring up the cliffs.
About 9,000 tonnes of rock were brought over from Norway.
More cliff
Jonathan Stratford, general manager of the Holiday Village, said Bourne Leisure spent £750,000 bringing in the rocks and rebuilding the cliffs with 400 tonnes of soil.
The money also went towards buying a stockpile of 2,000 tonnes of rock to help cope with further erosion.
"We've actually got more cliff than we had before because we extended it further and backfilled it with soil," Mr Stratford said.
Much of Hopton beach disappeared over the winter, though the recent westerly winds have brought back about 9ft (2.7m) of sand.
Mr Stratford said a long-term solution was needed to deal with coastal erosion.
"Long-term investment in here will require substantially more money because we do not want to lose any more land," he said.
"It is important for our owners, it's important for our holiday-makers, it's important for the local community that we have a beach here and that we do not send out a signal that the beach is receding here."
Great Yarmouth Borough Council put £200,000 towards the cost of repairs.