Gorleston beached minke whale 'struggled to find food'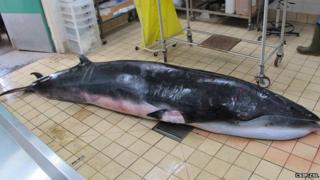 A young whale which was put down after it washed up on the Norfolk coast probably struggled to find food, tests have revealed.
The minke whale, 3.3m (nearly 11ft) long and weighing 51 stone (330kg), beached at Gorleston on Saturday.
A post-mortem examination was carried out on Tuesday.
Project leader Rob Deaville said a lack of food was "probably the most significant factor to the stranding and subsequent death".
Mr Deaville, who examined the whale for the Defra-funded UK Cetacean Strandings Investigation Programme, said the whale probably became dehydrated and stranded after becoming separated from her mother.
"It's speculation" he said. "This is an interim set of findings.
"We're waiting for results to see if it had an underlying infection."
Mr Deaville said about 600 whales, dolphins or porpoises are stranded around the UK coast each year.
This was the third minke whale to be stranded this year.
The whale is thought to have washed up on a beach near Lowestoft at about 19:00 BST on Saturday before being reported to the coastguard from Gorleston two hours later.
British Marine Divers were called but were unable to return the mammal to the sea.
A vet assessed the whale and a decision was taken to put it to sleep.