The Diocese of Norwich says it has overspent by £2m over four years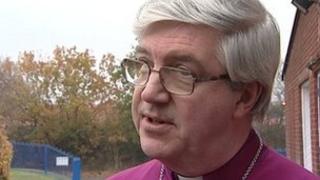 The Church of England in Norfolk has overspent by more than £2m over the last four years, the diocesan synod has revealed.
The Diocese of Norwich said each parish priest cost £57,000 a year, but it did not get enough from the 600 parishes to cover that cost.
It said some parishes paid more than that amount, but others did not give what was asked of them.
Now it wants those who are underpaying to contribute more.
"We need either to bring in more income or make drastic cuts in the number of stipendiary clergy," said the diocesan secretary, Richard Butler.
The Archdeacon of Norwich, the Venerable Jan McFarlane said certain parishes such as Cromer paid more than their £57,000.
"They're quite willing to do that in order to assist parishes that will never be able to meet that cost and still have a priest," she said.
"But what is also true is that there are parishes who could quite easily pay more than they are already doing but who choose not to for various reasons.
"What we're saying is that if you're not paying the cost of the ministry in your parish, who's going to?"
Oliver Sells QC, a lay member of South Pickenham Parochial Church Council - part of the Necton group of parishes near Swaffham - said he was concerned about the increase in the amount being asked of parishes.
"The Diocese should be taking enormous care to keep their costs down in order to lessen the burden on small parishes such as ours," he said.
"In fact what the new system will do is that it will push year by year more small parishes towards closure and non-viability."
The Bishop of Norwich, the Right Reverend Graham James said giving "joyfully" to the church was a "vital element of discipleship".
"It's all worth the effort if we want to proclaim the faith to the next generation," he added.