Norwich Go Go Gorillas 'life-size' art-trail revealed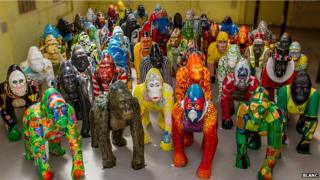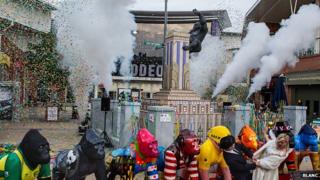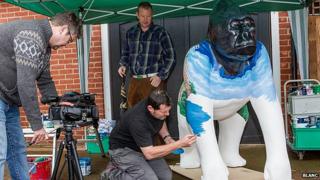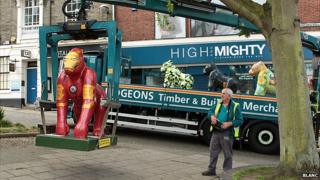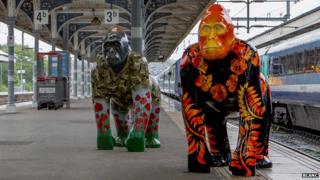 More than 50 life-sized gorillas have been installed around Norwich to create a conservation art trail throughout the city centre.
Organised by Norfolk charity Break, which cares for vulnerable people, the Go Go Gorillas have been produced by local artists over the past 12 months.
Commuters tweeted on Monday the gorilla trail "looked amazing" and made "the walk to work 100% better".
The trail runs for 10 weeks before the artwork is auctioned for charity.
Martin Green, fundraising officer at Break, said: "The trail will encourage thousands of people to discover and rediscover the fine city of Norwich.
"The event itself is about raising money for charity, inspiring visitors, highlighting environmental issues and showcasing the plight of one of the world's most endangered species."
Based on a western lowland gorilla, each sculpture stands about 5ft (1.5m) tall and weighs about half a tonne.
A number of teams, using fork-lift trucks, took four hours to install the 53 gorillas in the early hours of Sunday.
Mr Green said: "It was an amazing morning; when people woke up today it would have been a bit of a surprise."
An additional 67 "baby gorillas" will be added to the trail, going on display in shops around the city from Friday.
The trail includes sculptures inspired by Norwich City Football Club, singer Freddie Mercury, Norwich sports presenter Jake Humphrey and champion cyclist Bradley Wiggins.
Organisers hope the project will build on the success of Norwich's Go Elephant trail in 2008 which raised more than £200,000 for CLIC Sargent charities and the Born Free Foundation.
Nick Bond, head of Tourism VisitNorwich, said: "During the Elephant trail in 2008 more than half of visitors surveyed said they had come specifically to see the elephants - most of them went shopping in the city too and nearly all of them said they'd come again.
"Norwich's new gorillas are at large on the streets and they're even more eye-catching and have even bigger personalities."