Norwich Cathedral peregrine falcon chick dies in collision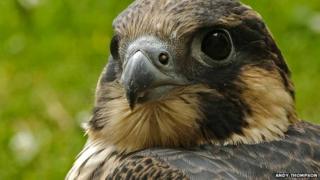 A second peregrine falcon chick from the brood on Norwich Cathedral has died from "accidental natural causes", a post-mortem test has revealed.
The body of the chick, named Edith, was discovered on the ground by volunteers from the Hawk and Owl Trust on Sunday.
The juvenile died from a "massive trauma to the brain" after "colliding with something solid while at speed", said a trust spokesman.
The remaining two young peregrines from the brood are "fit and well".
Earlier this month, another chick from the brood, Eleanor, was found dead after a suspected flying accident.
It has been about two weeks since all four chicks fledged their nest on the side of Norwich Cathedral spire, the second brood in the city since 2011 and among the first in 200 years.
Dave Gittens, a volunteer with the trust, said: "Ringed as T4 [Edith] was found dead in a playing field close to the cathedral yesterday. There was no reason immediately obvious which would account for this sad event so we had a post-mortem [examination] carried out.
"It appears she hit something at speed and this would have caused the trauma, but then glided some distance to where she was found in a playing field near the cathedral.
"We're now trying to find out what she hit to help us understand the natural dangers these birds face."
There are currently fewer than 1,400 breeding pairs of peregrine falcons in the UK.
Although they usually favour rocky cliff tops to make their nests, pairs have bred successfully in places as diverse as a disused nuclear reactor, and on top of a building belonging to Nottingham Trent University, as well as cathedrals in both Norwich and Derby.
Activity from the falcon's nest on Norwich Cathedral is broadcast online via a live webcam from the Hawk and Owl Trust.