Norwich glass and steel sculpture plan on display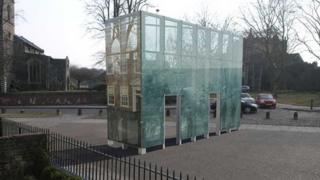 Plans for a £120,000 glass and steel sculpture for Norwich have gone on display to the public.
The 16ft (5m) structure is to celebrate the Norwich School of Artists, a group of influential 19th Century landscape painters.
The charity, Sculpture for Norfolk (SfN), wants it to be erected on St Martin-at-Palace Plain, near the city's cathedral.
A computer-generated image of the sculpture is on display at The Forum.
SfN has been working with German-born artist Mariele Neudecker, who was shortlisted for the fourth plinth in Trafalgar Square.
'Bus shelter'
Derek Morris, a trustee of the charity, said he believed there would be some people who would not like the sculpture.
"Nobody liked the Angel of the North and it was put there and now everybody thinks it is the best thing in the world," he said.
There has already been reaction to the installation on social networking websites.
Stephen Water tweeted: "It is too modern", while Hayley Johnston asked: "Is it a bus shelter?"
On BBC Radio Norfolk's Facebook page, Zara Scott commented: "Sculpture should be something you want to stop and admire, not something you glance at and walk quickly past."
Mr Morris said SfT would take note of people's views.
"When the time comes to put it before the planners, we will be taking their views into consideration," he added.
The sculpture is an 'L' shape with two doorways, and made of brushed stainless steel and glass with a greenish tint.
Images of Norfolk landscapes and from Norwich School of Artists paintings will be embedded in the glass.
The proposed site is outside Cotman House, once the home of painter John Sell Cotman, a prominent member of the Norwich School of Artists.
The cost of the sculpture will be met by donations from art-supporting charities.