Wisbech officers sniff out 3,500 cannabis plants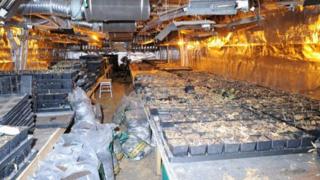 Thousands of cannabis plants with a street value of more than £250,000 were found in Wisbech after officers on patrol smelt their distinctive aroma.
Police said the discovery of the 3,500 plants at Sparrowgate Road on Sunday was one of the largest finds of its kind in west Norfolk.
Officers had detected a cannabis aroma in the area, with the plants later found in outbuildings.
Investigations are ongoing and no arrests have been made, police said.