Norfolk and Norwich University Hospital: CQC inspectors order improvements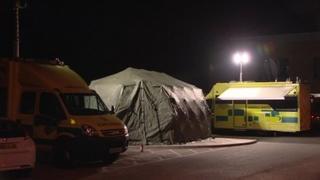 Norfolk and Norwich University Hospital has been ordered to improve after failing to hit two performance targets.
The hospital did not meet standards relating to care and welfare and working with other care providers, the Care Quality Commission (CQC) found.
Inspectors reported particular problems with the length of time it took to discharge some patients.
The hospital said it had already identified where improvements were needed and was making progress.
CQC inspectors visited the hospital once in March and twice in May in response to concerns.
They found two standards were not being met but judged these to be having a minor impact on patients.
Shortage of beds
The hospital was failing to provide people with "safe and appropriate care that meets their needs and supports their rights" and was not ensuring they got "safe and co-ordinated care" when they moved between different services.
It has been judged to be meeting 19 other standards.
Inspectors found ambulances waiting outside the hospital and were told the recommended 15-minute handover time was regularly exceeded.
Staff said this was partly caused by a shortage of beds due to delays in discharging patients back to the community.
On one day inspectors visited, 39 patients were recorded as being at the hospital when they did not need to be.
Ambulance staff said there had been improvements since the Easter weekend when 15 ambulances were queuing outside the hospital and a major incident tent was set up.
But inspectors were told of a number of problems in discharging patients on time.
'Dignified and respectful'
Some could not be discharged because the service they needed was not available where they lived, while others had to wait a long time for transport.
The hospital has been ordered to report back by 2 July, explaining what it will do to meet the standards.
Chief executive Anna Dugdale said: "We welcome the objectivity of the CQC inspections, which provide us with valuable insight.
"We are delighted that the CQC observed that patients were being cared for in a dignified and respectful manner."
She said the hospital had already identified that the discharge process needed improvement.
"We have a big project internally already looking at discharge so, if anything, we're reassured that the CQC found the same opportunities that we did."