Norfolk farmer inventor to meet MoD in patent court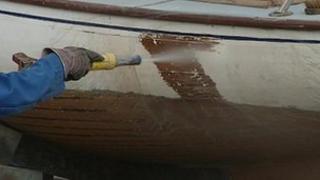 A Norfolk farmer who developed a system for cleaning ships and boats using a high-pressure hose is about to do legal battle with the Ministry of Defence.
Nigel Farrow, of Hopton, has patents for his system, but they are being challenged by the MoD.
The Royal Navy initially used his system after seeing it in 2000, but has since developed its own claiming it was not a new invention.
The Patent Court hearing is due to begin in London on Monday.
Mr Farrow said his invention uses a mixture of hot water and sand to blast the hulls of boats clean and that the Royal Navy used it on the fibre-glass hulls of minesweepers soon after he went into business.
However, Mr Farrow said that when they developed their own equipment they stopped using his and are now trying to get his patents overturned.
"The MoD has acknowledged that it works, but they won't give me the work and they won't give me the respect that an inventor should have," he said.
The MoD claims the system has been around for years and was not new, but its application to Brussels to have the European patents revoked was rejected.
An MoD spokesperson said: "We have brought tribunal proceedings before the UK Intellectual Property Office and it would be inappropriate to comment further while the case is ongoing."