A47 Postwick Hub inquiry told congestion 'would get worse'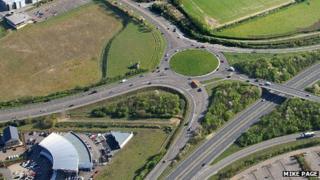 A new traffic scheme in Norfolk is needed to tackle "serious congestion" problems, a public inquiry heard.
The Highways Agency said problems around the Postwick Hub interchange, on the A47 near Norwich, would get "worse" unless it is replaced.
A new interchange, on the A47 near Thorpe St Andrew, in Norwich, already has planning permission.
The inquiry, set to last three weeks, in Norwich, will review plans to make slip road changes.
The agency, along with Norfolk County Council, wants to build new slip roads, a second bridge and close the junction's current slip roads to serve the proposed new Broadland Gate business park.
Written objections
It also wants to expand the Postwick park-and-ride site.
Highways Agency's barrister Michael Bedford said the new interchange was needed to boost the local economy, enable more housing and ease the area's "serious congestion".
He said efforts had been made to improve the existing junction but the designs were not "acceptable".
The Postwick Hub development is also the starting point for the proposed Northern Distributor Road (NDR).
The NDR would run around the east and north of the city to the A1067 Fakenham-to-Norwich road.
The Postwick Hub and NDR were awarded £86.5m from the Department of Transport in 2011.
Nearly 130 people have made written objections to the Postwick Hub inquiry, with 17 witnesses due to start giving evidence against the scheme next week.
The inquiry is being led by government planning inspector David Wildsmith.