Great Yarmouth energy skills centre plan 'needs financing'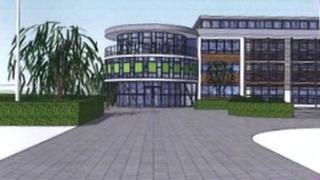 A new centre to train people to work in the energy industry could be built in Norfolk if the £11m cost can be raised.
The Energy Production Innovation Skills Centre (EPISCentre) is backed by the East of England Energy Group (EEEGR).
Finance is to be sought from the Regional Growth Fund, European Regional Development Fund and local councils.
Half the cost must also come from the industry, either in cash or equipment, said EEEGR, representing 400 energy firms and related organisations.
A feasibility study has been carried out for the Skills for Energy Partnership, part of EEEGR.
"We believe this is the best way to avert a critical shortage of skills in an industry which faces unparalleled growth in the region whether in windpower, gas, nuclear, agricultural biofuels, carbon capture and storage, marine energy or clean coal," Celia Anderson, executive director, said.
"The centre will be unique in this country in bringing together all the energy elements under one umbrella."
Improve skills
The target is to commission the complex later this year in time to start building next spring.
Both private and public funding will be used for its construction.
The scheme was first suggested in December 2010 when several options were revealed: Gas Works Road, Lowestoft; Beacon Park, Gorleston; Riverside near Asda, in Lowestoft; and South Denes, Great Yarmouth.
It was said at that time about 20,000 people a year would be able to learn or improve skills through the centre which will comprise offices and a range of workshops plus an outside training area.
The Lowestoft options have now been dropped.