Norfolk council chief executive David White's pay-off of £100,000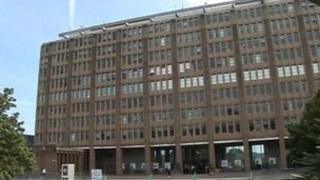 The former chief executive of Norfolk County Council received a pay-off of more than £100,000, nearly three times as much as previously thought.
David White received a total of £106,100 in redundancy payments, draft council accounts show.
When it was announced last year that he was to leave, the council said he would be receiving £35,493.75.
Labour council leader George Nobbs said the arrangements were a matter for the previous Conservative administration.
Conservative Bill Borrett, who was acting council leader at the time the pay-out was agreed, said Mr White was paid only what he was contractually entitled to.
He said the payments were "above board" and "absolutely proper".
The council revealed last December that Mr White, who earned £205,322 a year, was to leave in April following an organisational review.
'Lacked the skills'
Mr White had recommended the council's chief executive be replaced by a managing director, earning £40,000 a year less.
But he said it was "crystal-clear" he lacked the skills and experience needed for the new role and would be standing down.
In January councillors agreed he would receive £35,439.75 to cover nine weeks' pay and £44,752.79 in pension benefits.
They were told these costs would be "offset" by the reduced salary for the new post.
However, newly-published draft accounts show Mr White received a total of £106,100 as "compensation for loss of office".
As well as a redundancy payment of £35,400, he received "payment for contractual notice" of £63,600 and £7,100 for untaken annual leave.
Additional costs were put at £48,000 to cover "pension strain" and £9,600 for National Insurance, a total of £163,700.
'Decided by predecessor'
Mr Nobbs, who took over as leader in May, said: "The arrangements and conditions surrounding the end of David White's employment with this authority were a matter for the previous administration.
"As people will readily understand, I was neither a member of, nor a supporter of, that administration, and so was not privy to any decisions taken at that time about the precise arrangements and conditions of his leaving.
"I am entirely satisfied from my own subsequent enquiries that any arrangements entered into were decided by my predecessor and the then cabinet, as was their legitimate right."
Mr Borrett said: "He was paid £35,000 for loss of office which was the figure reported in the press at the time and, as I understand it, he was paid his notice period which was three months, his holiday that he was due, and his pension benefit.
"The pension and the notice period we were obliged to pay him anyway, whether he stayed or went.
"I'm very keen to have these things open and above board. As far as I'm aware it was all done absolutely properly and I would not want it done any other way."