Wayland Show future secured after Anglian Water deal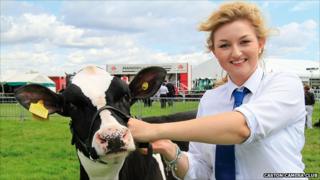 A historic agricultural show threatened with closure has secured its future after organisers completed a compensation deal with Anglian Water.
The 139th Wayland Agricultural Show, near Watton, was called off in 2012 when raw sewage seeped on to the field after a pumping station failed.
Anglian Water said the problem was due to an electrical storm.
The show has received £70,000 from the firm and a two-year sponsorship deal of the grandstand as compensation.
'Very helpful'
Show chairman Graham Shingfield said he was "relieved" the 140th show was secure and the public support expressed for the event was "a great comfort".
He added: "Our finances are still very marginal.
"Anglian Water has indicated that they may be willing to make donations to local good causes on our behalf, but to date we have been unable to agree whether this will happen or not."
About 15,000 people typically visit the Wayland show, which has its origins in the four Watton fairs held in 1460.
John Clare, a spokesman for Anglian Water, said: "As a goodwill gesture we have made a donation to cover the running costs for this year's show.
"The Wayland Show is a great occasion with the community at its heart and it's great to be able to support in its 140th year."
Mr Clare added this "concluded negotiations" with the show's organisers.
The 140th Wayland Agricultural Show takes place on 4 August.