Brian May backs Norwich Freddie Mercury gorilla removal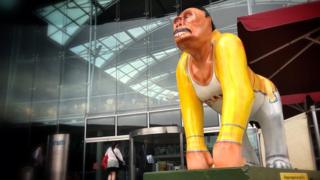 Queen guitarist Brian May says Freddie Mercury's estate was "quite within their rights" to ask for a gorilla painted as the singer to be removed.
Artist Mik Richardson's Radio Go Go sculpture was removed from outside The Forum in Norwich on Monday after a copyright complaint.
May explained the estate had requested an "update to the paint job".
"They try to safeguard Freddie's reputation, just as if he were still around," May said.
The gorilla was one of 53, life-sized, 5ft (1.5m) and 67 smaller glass fibre sculptures, supplied by Wild in Art, placed around the city centre.
Money raised from an auction of the gorillas in October will go to Norfolk charity Break and the Born Free Foundation.
'Crude and insulting'
Writing on Bri's Soapbox, May suggested Wild in Art should have asked Mercury's estate for permission and given it a chance to approve the art work.
A "Freddie Lion" had previously been commissioned for the Pride of Cape Town art trail earlier in the year.
"You have to ask yourself how you'd feel if suddenly people were making effigies of your dearly departed dad or son or brother, and you felt they were disrespectful," he said.
"You'd want to feel you had some kind of a right to say yes or no, to protect his reputation."
May said he would not comment on the artistic merit of the sculpture but said a "number of people thought it was a crude and insulting effort".
He said the estate could have taken a more lenient view on the gorilla, but that would have led to an "open season".
"There would be nothing to stop any number of companies like this making Freddie elephants or antelopes, or whatever," he said.
"Distorting Freddie's features just as they felt inclined, and making loads of money from lots of well-meaning people who might well feel they were contributing directly to a charity."
Martin Green, from Break, who organised the gorilla trail, said talks were "ongoing" with the estate and he was hoping for a "conclusion to discussions" early next week so things could "move forward".
He would not be drawn on suggestions for an Alan Partridge gorilla becoming the replacement.
The Freddie Mercury estate is yet to comment.
The Norwich Go Go Gorilla trail, runs until 7 September. Other conservation-based trails are taking place in Colchester, Southampton and Exeter.