Woman tears Achilles tendon in Great Yarmouth seagull attack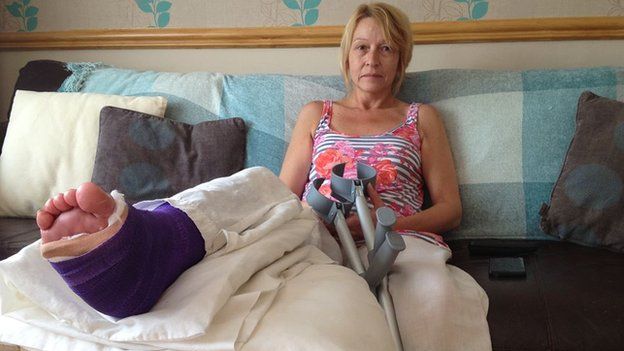 A woman has torn an Achilles tendon while trying to escape a seagull attack.
Amanda Goodrum who lives and works in Great Yarmouth, said she tripped while fending off the bird at the weekend.
She says "something needs to be done" about the birds, which market stall holders say have been stealing chips and doughnuts from people.
Great Yarmouth Borough Council said it would consider reintroducing signs asking people not to feed birds.
Jane Beck, head of wellbeing services, said some were erected a couple of years ago but taken down after people complained.
"Seagulls are scavengers," she said. "If they are being fed they will come back and we will see more of them - the key is not to feed them."
Ms Beck said the council had only received six complaints about seagulls, out of about 1,500 calls, in the past two months.
But Ms Goodrum, 49, who works in a betting shop, said the birds' behaviour was "out of control".
She said she was attacked on her way to buy a pint of milk.
"This seagull swooped off the roof at me," Ms Goodrum said. "I put my hands up to wave it away.
"I turned around and he came from the other side - he was about two inches away from my face.
"I turned around again, panicked, ran and went straight on the floor. I couldn't feel my foot.
"The pain is really, really bad."
Ms Goodrum said she could be off work for up to 10 weeks because of the injury.
Related Internet Links
The BBC is not responsible for the content of external sites.