'Knocked cyclist off' tweet woman Emma Way due in court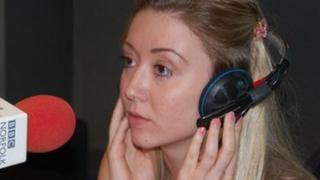 A woman who tweeted she had knocked a cyclist off his bike after an alleged crash in Norfolk has been summonsed to appear in court.
Emma Way, 21, is to answer charges of driving without due care and attention and failing to stop after an accident.
She also has to answer a charge of failing to report the accident in Rockland All Saints on 19 May.
Ms Way, a trainee accountant from Akrotiri Square, Watton, is due before Norwich Magistrates' Court in August.
The Crown Prosecution Service and Norfolk Police ordered the summons after an investigation.
'Spur-of-the-moment'
In an interview with BBC Radio Norfolk shortly after the collision, Ms Way disputed the version of events given by the cyclist, Toby Hockley.
Mr Hockley, a member of Iceni Velo cycling club, said he was nearing the end of the Boudicca Sportive 100-mile ride when a car came towards him at speed on the wrong side of a narrow country lane.
The car's wing mirror clipped him and he was launched from the bike into a hedge, he said.
Mr Hockley said he was thrown into a hedge and was "lucky to be alive".
Miss Way's post on Twitter read: "Definitely knocked a cyclist off his bike earlier. I have right of way - he doesn't even pay road tax!"
The comment included the hashtag #Bloodycyclists.
It was retweeted several hundred times and led to what a tearful Miss Way described as the public "judging me on one man's side of the story".
Miss Way said she regretted her "stupid, immature, spur-of-the-moment" tweet and said she could only blame herself for the reaction it caused.