Freddie Mercury Norwich Go Go Gorilla returns after facelift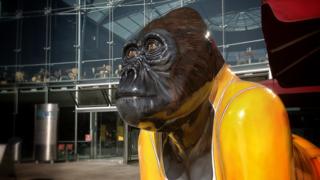 A Freddie Mercury caricature gorilla sculpture has been returned to a Norwich art trail after a facelift was agreed with the rock musician's estate.
The work, featuring Mercury's yellow bolero jacket, was removed on 8 July after the singer's estate objected to its facial features.
Break, the charity which organised the Go Go Gorillas trail said it had to "respect" the request.
Artist Mik Richardson said the new gorilla was lacking "a sense of fun".
Mr Richardson, from Aylsham, said: "Freddie now has the face of a proper gorilla that has taken more than 16 hours to paint by hand using about 15,000 brush strokes.
"I've tried to make a realistic, leathered looking, gorilla face - that's tinted with a hint of amber. This technique has made sure he looks different to all the others on the trail.
"I'm very pleased with the artwork, but his sense of fun has now gone - which is a shame as that's what these trails are all about."
Writing on his blog, Queen guitarist Brian May said the estate was "quite within their rights" to request "an update to the paint job".
Musical 'legend'
The sculpture, named Freddie "Radio Go Go" Gorilla, is one of 53 life-sized glass fibre western lowland gorillas, placed around the city centre as part of a summer-long exhibition.
They will be auctioned in October to raise money for the Norfolk charity Break, which helps vulnerable families, and the Born Free Foundation to help gorilla conservation projects in the Congo.
Martin Green, from Break said: "It's been heart-warming to see how the public have taken Freddie to heart, but we had to respect the wishes of Freddie Mercury's estate and make the best of a difficult situation.
"We were informed by our trail partners the request to remove Freddie came from the Mercury Phoenix Trust (MPT). The trust then clarified the request came from the Freddie Mercury estate. We apologise for any problems this caused the MPT.
"Radio Go Go was only ever created as tribute and celebration to Freddie Mercury and we're delighted to have been able to to come to a mutual resolution."
Mr Richardson, who has been a Queen fan all his life, said: "I'm such a huge fan of Queen the last thing I'd ever want to do is offend anyone.
"It was purely a tribute to someone who I think is a legend - and a caricature will emphasis somebody's more prominent features."
The Freddie Mercury estate said it would not be commenting.
The Norwich Go Go Gorillas trail, runs until 7 September. Other conservation-based art trails are taking place in Colchester, Southampton and Exeter.