Bawsey Pits deaths: Search diver speaks of weed-choked water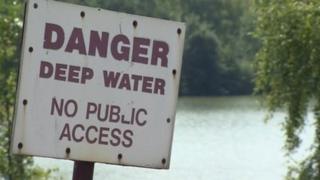 A diver who helped recover two bodies from a former quarry said weed in the water-filled pits was so thick he had to use a knife to cut himself free.
A 41-year-old man and a boy of 16 died while swimming at Bawsey Pits, near King's Lynn, Norfolk, on Tuesday.
Alan Nicholls, a Norfolk Fire and Rescue Service diver, said he became entangled in weed while underwater.
The man, from King's Lynn, and the boy from Ely, Cambridgeshire, are due to be named by police.
Their bodies were recovered from separate pits at the site, which is open to the public.
'Entanglement is everywhere'
Swimming is forbidden, but warning signs are often ignored.
"Bawsey Pits from the surface looks like a lovely, benign, clear bit of water to go and have a nice swim in on a summer's day," said Mr Nicholls.
"You can see the sand on the bottom but as soon as you get out four or five metres (13 to 16ft), it drops off quite rapidly.
"Once you are two metres down the visibility starts to go.
"As soon as you hit this weed bank you've got no visibility and you are really restricted in movement.
"The entanglement is everywhere. As a diver, you are generally working in the prone position - on your belly - and you've got probably two metres (6ft) of weed above you."
Other hazards for swimmers at the site include the pits' steep sides and underwater obstructions, including trees.
Gary Stringer of Sibelco, which owns the pits, said: "We are obviously saddened and our sympathies and thoughts go out to the two families and their friends who were involved in all of this."
Representatives of the company are due to meet West Norfolk Council and Norfolk Police later to discuss safety at the site.