Norwich station train crash: Witness describes fears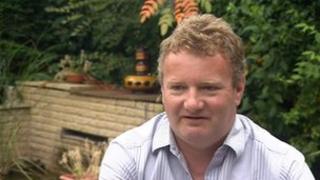 A passenger hurt in a train crash has told how the lights went out on impact and left the ceiling 'hanging down'.
A Greater Anglia service collided with a stationary train at Norwich station during the early hours of Sunday.
The ambulance service, which sent five ambulances, said it took eight people to hospital after the accident - three of whom were on spinal boards.
Eye-witness David Tarry, of Brundall, said a number of other passengers were hurt but went to hospital in minibuses.
All of those hurt in the accident were subsequently discharged from the Norfolk and Norwich Hospital.
Describing what happened, Mr Tarry, who had been on a day out, said: "The bang was noticeable, but it was the jolt that was more noticeable.
"And the lights went out - it was very disconcerting. The seat cushions were thrown all over the place, the ceilings and lights were hanging down."
'Very surprised'
He added: "There were a few head injuries for the people who had been standing and had been flung about," he said, adding he saw one man bleeding from his head after hitting it against a door frame.
"A lot of people like myself had bruised ribs. I was very surprised when I heard eight people had been injured.
"A lot more people were taken to hospital. I went in a van with three other people."
A spokesman for the East of England Ambulance Service said it only took those people to hospital who were deemed to need emergency treatment.
It is thought the minibuses which took others to hospital were provided by the railway station, he said.
Other ambulance resources - including the air ambulance - were on standby, but were stood down because they were not needed, the spokesman said.