RAF Coltishall: Ex-airbase could host open-air concerts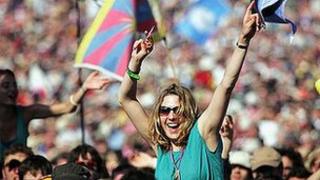 Large concerts and events could take place at a former Norfolk airbase as ideas are drawn up for its future use.
Norfolk County Council bought the remaining 600 acres (242.8 hectares) of RAF Coltishall in January after the Ministry of Justice put it up for sale.
Initially earmarked for business, ideas also being offered for public consultation include turning some of the site into a holiday park.
People have until September to comment on the proposals.
The RAF left Coltishall, near North Walsham, in 2006 and the Ministry of Justice built a prison for sex offenders on part of the site in 2009.
'Exciting'
The county council bought the rest of the site for £4m following a number of failed bids from private investors.
George Nobbs, Norfolk County Council leader and cabinet member for economic development, said: "This is one of the most exciting development projects that the county council has ever taken on.
"This is not a collection of industrial units or a site for intensive development. Our aim is to make it a living breathing part of the local community that everyone involved can be very proud of."
Other ideas being proposed include turning some of the area back into agricultural land, building a solar park and linking the site to the Bure Valley steam railway.
The council said much of the former runway would be left alone, but some of the aggregate at the site would be used for future road development.
People have until 17 September to take part in the online consultation.