Norwich station train crash: Passenger train going 'too fast'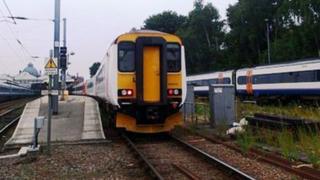 A passenger train was travelling "too fast" when it hit a stationary train at Norwich railway station, a preliminary report has found.
Eight people were taken to hospital after a stationary and passenger train crashed in Norwich on Sunday.
The Rail Accident Investigation Branch (RAIB) said the train could not stop in time as it came into the station.
There was no evidence the condition of the track or train played a part in the crash, the RAIB said.
Testing on the signalling concluded it was operating normally.
The two-car train, operated by Greater Anglia, had 34 passengers on board, eight of whom had to be taken to hospital. The train crew were uninjured.
Sequence of events
The collision, which happened at shortly after midnight on Sunday, pushed the empty East Midlands train against a second train, causing damage to the trains' couplers.
The RAIB also found the platform was not long enough for the full length of the passenger train.
The investigation is still ongoing, and will continue to look at the sequence of events that led to the crash.
It will also look at what might have influenced the behaviour of the driver.
The RAIB will publish its findings and any recommendations to improve safety when the investigation is finished.