Bacton Cricket Club: Hard ball ban club in North Walsham move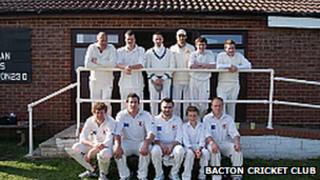 A village cricket club banned from using hard balls during batting practice due to health and safety fears has decided to move to a nearby town.
Bacton Cricket Club was stumped by the parish council's new playing field rules when they were published in May.
The club has now permanently moved to play its games at North Walsham High School following the dispute. Its name could be changed in the future.
Bacton and Edingthorpe Parish Council has been unavailable for comment.
In June it said the club had been temporarily barred from the Cubitt Memorial Playing Field for failing to agree to the new set of rules - which included the hard ball ban for batting outside of the nets - to satisfy insurers' demands.
'Really buzzing'
It followed a couple of alleged near-misses at the club's home of 36 years, where the parish council said other people using the field were almost hit.
The ban was due to be made permanent if the Norfolk Cricket League Division Six team failed to sign the agreement within two months, but club chairman David Gale said the chance to move to North Walsham came along and it was "too good an opportunity to turn down".
"We're all really buzzing. We've got new people wanting to join the committee and I think it could be the beginning of a really good thing," said Mr Gale.
He said as the club was now operating at the school, it had applied for grants with Sport England to buy an all weather cricket square, new nets and an electronic scoreboard.
Next season the club may also change its name to Bacton and North Walsham CC. The town does not currently have its own cricket team.
A statement from Bacton Parish Council after last month's ban said: "Any group or individual using the playing field must abide by straightforward rules to ensure equal access, fairness and safety for all users.
"The problems with the cricket club are of a completely different nature and have little to do with health and safety."
Speaking at the time of the ban a council spokeswoman told the BBC that in addition to failing to sign the new rules, other issues had also been raised with the club - including a mobile scoring hut being used without permission and individuals being "aggressive" at council meetings.