Swanton Abbott rave: Man seriously injured in speaker fall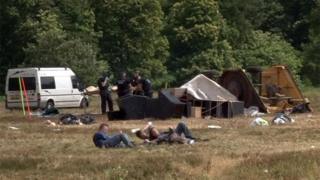 A man is in hospital with head injuries after falling from a speaker rig on to an agricultural grass cutter while at an overnight rave in Norfolk.
Police said the illegal music event started at about midnight at the Heath Plantation, in Swanton Abbott, near North Walsham.
The 18-year-old, from Downham Market, was airlifted to Addenbrooke's Hospital in Cambridge.
Police said he remains in a "serious" condition. Four people were arrested.
Ollie Clements, who attended the rave, said: "It's not a nice thing to see. We all come here and it's supposed to be a community vibe.
"When you see somebody fall off a rig and hurt themselves like that and we have to get the law enforcement involved it's quite disappointing."
Police had initially said about 600 people attended the rave but later revised the figure to "more than 250 people".
A spokesman said the force was alerted to the event after people reported a large number of cars "racing around" the area.
He said officers had worked to close down the rave as soon as was safely possible.
'Potentially tragic'
Supt Carl Edwards said: "Norfolk Constabulary has a zero tolerance approach to unlicensed musical events (UMEs).
"We warn people attending that they are dangerous places as they have little or no health and safety provision, as well as leading to damage and disruption to businesses and the local community.
"This incident should serve as a warning to other people considering holding or attending UMEs that these events can have potentially tragic consequences."
The incident comes a week after a 26-year-old woman was flown to hospital following a rave near Thetford.
Police were called to a site in Croxton on 20 July where up to 300 people were partying.