Norwich Airport arrest: Eastern Airways flight disturbance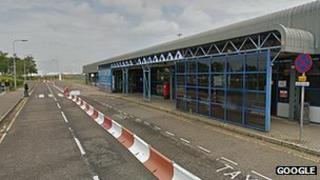 A man has been arrested following a disturbance on an Eastern Airways flight between Aberdeen and Norwich.
The 43-year-old, from Norwich, was allegedly being "obstructive and abusive towards cabin crew", on the 50-seater Saab 2000 aircraft, police said.
He was arrested under the Aviation Act shortly after the plane landed at Norwich International Airport about 17:40 BST on Tuesday.
The man has been released on police bail until 29 August.
Police said at no time was safety on the flight "compromised".
A spokesman for Eastern Airways said as the incident was subject to an ongoing police investigation "it would not be appropriate for us to comment further at this stage".
"However, in general, the safety of our passengers and crew is of paramount importance and as such we do not tolerate any kind of disruptive or abusive behaviour on any of our aircraft."