Norfolk County Council children's services funding pledged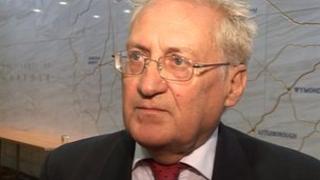 A council criticised by the education watchdog and MPs for its failing schools has said it will invest an extra £16.5m in children's services.
Norfolk County Council said it plans to employ more social workers and school staff to tackle issues highlighted.
Ofsted said tens of thousands of children were being denied a "decent education" and Norfolk's most vulnerable were not being safeguarded.
Labour council leader George Nobbs said there was a need for "decisive action".
He said £2.7m would be immediately spent on employing an outside agency to provide 40 social workers for six months, until the council can recruit its own staff.
Funding of £2.3m has then been put aside to pay for council staff for two years.
'Legacy of underachievement'
Mr Nobbs said a further £1.5m would go towards schools, including the appointment of improvement advisors and intervention officers, and £10m would support children with special educational needs.
"Ofsted has clearly signalled we need to take decisive action in Children's Services," said Mr Nobbs.
The council said the investment would be funded by a £10m government grant, with the one-off spends coming from efficiency savings and the remaining £2.3m being made available in next year's budget.
Ofsted inspectors criticised the county council's children's services department earlier this year, saying it failed to properly safeguard children and believed the most vulnerable were being put at risk.
Inspectors also found the council had taken too long to challenge weak schools, leading to a "legacy of underachievement".
In June, children's services head Lisa Christensen decided to retire following pressure to resign by Norfolk's MPs, with Sheila Lock becoming the department's interim boss.