Manx Grand Prix: Paralysed champion Phil Armes to get back on bike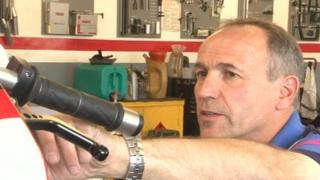 A former motorcycle racing champion paralysed in a crash said he was determined to get back on his bike after crashing during a lap of honour.
Phil Armes, 54, broke his back in a crash near Belfast 18 years ago and did not ride again until April.
On Wednesday he was one of 65 former Manx Grand Prix champions to ride the lap at the Isle of Man TT course.
Phil, of Hellesdon, Norfolk, crashed the specially-adapted bike mid-way around, but has vowed to ride again.
'In one piece'
Mr Armes has no feeling from his chest down after crashing at 120mph in the 1995 Ulster Grand Prix.
For his return to the Isle of Man for the 90th anniversary of the TT course, he was riding a specially-adapted 650cc Suzuki bike.
His feet and legs were strapped to the machine and he was able to brake and change gear using controls on the handlebars, rather than pedals.
But two-thirds of the way around the 37.5 mile (60km) circuit, he came off the motorbike.
"The bike's in one piece, the rider's in one piece, and my crew have stopped crying after they pushed me off on the start line," he said.
"They all got a bit emotional, but they didn't tell me until I got back."
However, the crash has not affected Mr Armes' spirit.
"It's all there to be done - so why not have a go?" he added.