Mike Souter sex trial: Ex-BBC man had 'no sexual interest in boys'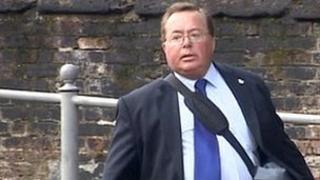 A former BBC presenter accused of sex offences told a social worker he had no sexual interest in young boys, a court has heard.
Ex-BBC Radio Norfolk presenter Michael Souter, 60, denies 19 offences against seven boys.
He spoke to social worker Malcolm Brain after being arrested on suspicion of sex offences in September 1993.
Mr Souter said he had taken part in gay sex in the Navy but was heterosexual, Norwich Crown Court heard.
The court earlier heard from a man who said Mr Souter, of Loddon, Norfolk, abused him for nearly two years when he was between 13 and 15.
The man, who cannot be named for legal reasons, first made abuse allegations to police 20 years ago, the court heard.
'Number of affairs'
Mr Souter was arrested but three weeks later the Crown Prosecution Service decided not to proceed with criminal charges.
He is now being tried on charges brought last November.
They relate to offences alleged to have taken place between 1979 and 1999 against boys aged 11 to 16.
Mr Brain said he spoke to Mr Souter soon after the 1993 allegations.
Mr Souter told him he had no sexual interest in boys, he said.
He claimed that married women found him attractive, and that he had had a number of affairs, Mr Brain said.
Boy was 'despondent'
Mr Souter also told him he did not have to prove his sexuality, he added.
He said Mr Souter was concerned the allegations might hinder his application to become a magistrate.
He also told him he had "personal contact" with a Norfolk Police inspector who he had asked to find out what was happening in the case, he said.
Mr Brain said the boy was "despondent" when the case was dropped.
"He felt people were not believing him," said Mr Brain.
Earlier the court heard from a man who said the boy had confided in him that he had been abused, but would not say by whom.
"I assumed it might be Mike Souter," said the man.
"He said, 'How did you know?' I said, 'I didn't. You just told me.'
'Bad atmosphere'
"I don't know if he was frightened but he was definitely reluctant to report it.'"
The man, who said he was openly gay, said the boy visited him at his home before going to the police about Mr Souter.
He said he then became the target of false claims from Mr Souter that he was having a relationship with the boy.
He said the '"bad atmosphere" resulted in his being sacked from work a few weeks later.
Under cross-examination by Andrew Hill, defending, he said his relationship with the boy was one of friendship.
Asked if he had ever been spoken to by bosses for "hitting on" customers, he said: "No, I can't recall that."
The trial continues.