Great Yarmouth suspension bridge disaster memorial unveiled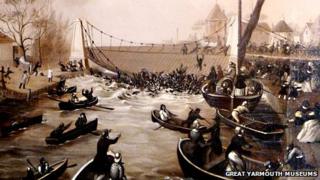 A granite memorial to mark the "largest recorded loss of life" in a Norfolk town where nearly 80 people, mostly children, died has been unveiled.
On 2 May 1845, a suspension bridge over the River Bure in Great Yarmouth collapsed under the weight of hundreds of spectators watching a circus stunt.
Julie Staff, 55, has spent 14 months raising £5,000 to create the town's first public memorial to the tragedy.
She said: "Finally we're able to give people the respect they deserve."
The memorial, which is shaped like a book and stands about 4.5ft (1.4m) high, was unveiled on the site of the former bridge which spanned the river near to where the Swan Pub stands today on the town's North Quay Road.
Thousands lined the riverbank with families packed on to the bridge in 1845 to watch Nelson, a clown, journey along the river in a tub pulled by four geese.
Mrs Staff, a grandmother of eight who runs a deckchair business, said: "Hundreds of people were on the bridge.
"As the clown came into view they all went to one side of it, but the bridge didn't stand the weight and it collapsed.
"Four hundred people went into the river, 79 died, 59 were children.
"One minute everybody would be excited to see the clown, it would then have turned into a scene from hell."
The "book" of granite, which was quarried in India and weighs nearly a tonne, was shipped to Norfolk via China, and carved by stonemason Kevin Abbey and artist Roland Ayers.
Mr Abbey said working on the memorial, which took several weeks to complete, had been "an honour".
"To be so involved in a big part of Great Yarmouth's history means a lot," he said.
He added: "It's important to have a lasting memorial for those who tragically lost their lives on what should have been a fun occasion and for the town to be able to remember these people at a memorial where they can come and pay their respects."
About 100 people joined Mrs Staff at the unveiling and she said it was "very emotional".
"Anybody who came will have played a part in the telling of the final chapter in a story that's spanned centuries," she said.
"This memorial has been created by the people of Great Yarmouth as all those pound coins have come together to make this happen.
"It's like the suspension bridge story has finally been told and the people who died have finally been the given the respect they deserve."