Norfolk Broads: 'Killer' shrimp expected to spread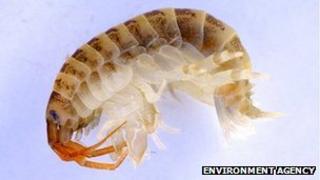 An invasion of non-native "killer" shrimp on the Norfolk Broads is expected to spread through connecting rivers, the Broads Authority has said.
Dikerogammarus villosus, spotted 18 months ago, eats native shrimp and young fish.
Despite urging boat users to monitor their spread, the authority has seen the shrimp seven miles from where they were first spotted.
The authority is to "widen its message" and research the shrimp's impact.
The 30mm-long (1.2in) killer shrimp feeds on damselflies, small fish, water boatmen and native freshwater shrimp, threatening the Broads' eco-system.
They often move about by hitching lifts on boats and fishing equipment and have been spotted in Acle, about seven miles (11km) south of Barton Broad, where they were first spotted.
'Check, clean, dry'
Andrea Kelly, of the Broads Authority, said they had had a "devastating effect" on aquatic ecosystems throughout western Europe.
She said the only way to stall the spread of the shrimp was to raise awareness of preventative measures within the boating and fishing communities.
"It's not possible to destroy the shrimp using chemicals because they cannot be targeted without killing other wildlife," she said.
The authority and Environment Agency have instead been promoting the "Check, Clean, Dry" campaign.
This advises river users to routinely check equipment, including boats, clothing and fishing gear that, has been in contact with the water.
They should wash it, return any organisms to the water they came from, and dry out equipment for at least 48 hours.
Anglers are also asked not to use keep nets as shrimps tend to gather in them.
Since the campaign began, the Broads Authority said it had seen a 55% increase in awareness of the shrimp among river users.
However, the Environment Agency confirmed the shrimp were still spreading.
"We are still monitoring around 20 sites, and go out on the Norfolk Broads three times a year to look for killer shrimp," a spokesman said.
"If the shrimp become established and widespread, as other invasive species such as floating pennywort and signal crayfish have, it could threaten populations of native species."