Paston family medieval letter on show to public for first time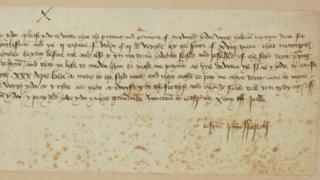 A letter that forms part of the oldest record of private correspondence in English surviving in Britain is to be shown to the public for the first time.
The Paston letters, written by members of the family from Norfolk give a picture of life between 1422 and 1509.
The letter, written in 1455, was discovered in a London auction by the Norfolk Record Office (NRO) last year and was bought for £3,000.
It will go on display from Monday at the Norfolk Record Office.
The letter was written by Sir John Fastolf to John Paston and asks Paston to pursue the prior and convent of Norwich, who were behind with their rent for land of the manor of Hellesdon.
The annual rent was two wax tapers, each weighing 2lbs, and by 1455 they were 18 years, or 36 "candles", in arrears.
Until it came up for auction, the letter had not been seen since the 1830s, when it was acquired from Thorpe's Catalogue by the Norfolk antiquary, Charles John Palmer.
Susan Maddock, principal archivist at the record office, said managing to buy the letter was "one of those magic moments I'll never forget".
She said: "I've been working at the record office for 38 years and this is one of the highlights."
Ms Maddock said the only date on the letter was 10 July, but experts were able to deduce it had been written in 1455.
"You can see where it was originally folded and it's absolutely tiny," she added.
"It's very poignant. I just imagine a medieval messenger with his little pouch and carrying it to John Paston."
The Paston family took their name from the village of Paston near Mundesley.
The medieval letters come to an end just as the family achieved many of its goals, but the Pastons continued to be one of Norfolk's most prominent families until the 18th Century.
The extravagant lifestyle of the later Pastons, however, meant that William Paston, 2nd Earl of Yarmouth, died bankrupt in 1732.
The family's great houses of Paston Hall, Oxnead Hall and Caister Castle fell to ruin, and the family was largely forgotten until the archive of letters came to light.
The exhibition is the first about the Pastons to be held in Norfolk for 60 years.
As well as the Paston letters, documents about the family currently in private hands, such as the Paston family tree of 1573, will be on show.
The exhibition is produced in conjunction with the Paston Heritage Society.