Norfolk's County Hall upgrade costs £10m more after surveys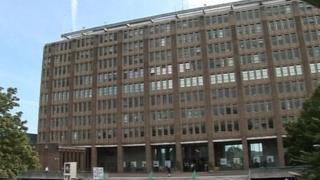 The cost of refurbishing County Hall, home of Norfolk County Council, has risen by nearly £10m to £31.92m - a 43% increase since the July 2012 estimate.
Surveys of the 50-year-old building have revealed that more essential work and increased fire safety are needed.
More work is also required on the structure, and other costs have increased the original £22.2m budget.
The new costs plan will be considered by the corporate resources overview and scrutiny committee on 12 November.
The council plans shut all other Norwich offices and relocate staff to County Hall to save £1.57m a year.
Members have been told the County Hall building is now in a "very poor state of repair" with much of the heating, plumbing and electrical systems in dire need of updating.
The first estimates for refurbishment set the budget at £22.2m, but further problems emerged after property surveyors took a closer look at the building.
'Cracked masonry'
Members have been told: "Roofs require waterproofing and some structural repairs to the concrete frame are required where either water penetration or movement has occurred.
"A major concern is cracked masonry located on the exterior façade, which results in pieces falling off the building.
"The frequency of failures is increasing due to the effects of weathering over the years.
"Energy efficiency is poor, with most of the building having little or no insulation and single glazing.
"The council's property consultant has recommended the 50-year-old building's offices be made open-plan and its external concrete frame repaired.
"The entire building's heating and electrics should be upgraded, along with adding insulation to all walls, floors and ceilings and the removal of asbestos."
Work will be carried out over a three-year period with funding brought forward from future budgets to pay for it.
The council said that the refurbishment will address existing maintenance, safety and repair issues.