Norfolk floods: Minister likens coast damage to 'war zone'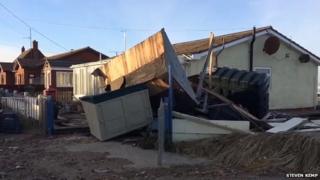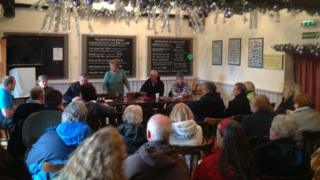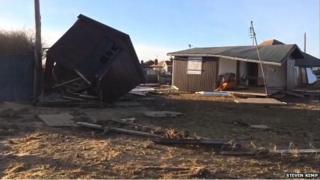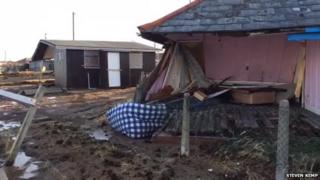 A government minister has likened part of the flood-hit Norfolk coast to a "war zone".
Norman Lamb, the MP for north Norfolk, visited Walcott where parts of the sea wall was demolished and wooden buildings were destroyed in Thursday night's storm.
A major clear-up operation is under way along the coast.
Mr Lamb said: "It's a bit like a war zone… it's pretty devastating for everyone involved."
The largest North Sea surge since the devastating floods of 1953, hit the north Norfolk coast on Thursday evening and headed south through the night.
Seven cliff-top homes collapsed in Hemsby, where a former lifeboat station was washed into the sea.
Liberal Democrat health minister Mr Lamb, who joined residents at a meeting at the Lighthouse Inn in Walcott, said: "There's a lot of debris on the road there are people down there doing the best they can at clearing out their homes.
"Some people don't have insurance and have lost everything.
"I think this community has been hit harder than anywhere else on the north Norfolk coast and I just feel very distressed for the people involved."
Wildlife 'distressed'
Meanwhile, the last of the 3,000-plus fish and other creatures at flood-ravaged Hunstanton Sea Life Sanctuary are being moved.
The majority - including 11 sharks, six penguins and a green sea turtle - were safely removed on Friday.
Some have been settled at Great Yarmouth Sea Life Centre, while others were taken to quarantine facilities in Weymouth, Dorset.
"In spite of our best efforts we were unable to save around a dozen fish," said Sea Life's head marine biologist Rob Hicks.
Marcus Nash, 44, of Hindolveston, Norfolk, photographed a seal swimming along the route of the A149 road in Cley, Norfolk.
"It was next to a 30mph sign," he said.
"It is funny to think of the concept of a seal swimming down the A149 but there is a sad side to it because it was obviously in distress."
Experts have said hundreds of grey seals have been lost on the north Norfolk coast due to the deadly storm surge.
The National Trust, which supports volunteers at Horsey Gap, issued a statement confirming 263 seals have been lost from the beach.
Mr Nash added the area was badly hit and work was continuing to clear the debris in the area.