Drug and health improvements Wayland Prison but concerns remain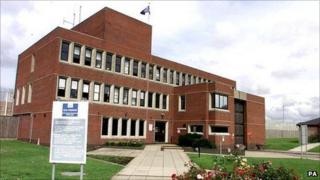 An inspection at a Norfolk prison has shown improvements in areas of drug misuse and health services that had needed to be "urgently addressed".
The 2011 report into HMP Wayland, near Thetford, said changes to the drug treatment system had been "badly introduced" and caused "disruption".
The strategic management of healthcare was also said to be "poor".
The new report said these areas were "much improved", but there were still other areas of concern.
The recent inspectors' report into the category C men's training prison said illicit drug use was low with positive tests in 4% of cases - set against a target of 8%.
'Disinterested staff'
Drug misuse services to support prisoners had "significantly improved".
Healthcare, which was provided by the private firm Serco, had also "improved significantly", with 46% of prisoners saying they were satisfied with it, compared to 35% last time.
However, inspectors said the prison needed to improve its first night and induction arrangements.
Although some staff-prisoner relationships were very positive, too many officers were "dismissive and disinterested".
The report also criticised a lack of resources applied to diversity and equality issues, and inspectors found that black and minority ethnic inmates said they were treated "particularly poorly" by staff.
Nick Hardwick, chief inspector of prisons, said: "These remain significant concerns and need to be dealt with as priorities.
"Budget reductions and management changes were having an impact and many staff were still in the process of adapting to new roles.
"Maintaining, and in some cases, improving outcomes for prisoners in these circumstances was a real achievement."
Michael Spurr, chief executive officer of the government's National Offender Management Service, which runs prisons, said: "I am pleased the chief inspector has recognised the improvements that have been made.
"I am confident the governor and his staff will work hard to address any concerns raised."