World War Two Norwich 'bomb map' restored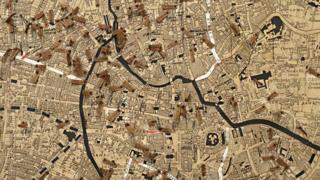 A map illustrating the extent of bombing suffered in Norwich during World War Two has been restored and published in a digital format.
The 74-year-old "bomb map", created by the Air Raid Precautions, features 679 tags that mark all the explosives that fell on the city from 1940-1945.
The paper tags recorded the location, date and size of the bombs.
Yuki Uchida, from the Norfolk Record Office, said the 6ft (1.8m) square map was in a "very poor condition".
Created from three Ordnance Survey maps and mounted on chipboard, the map has taken Ms Uchida more than five months to conserve.
Only when this process was complete could it be photographed in sufficient detail to be transformed into a digital reference tool.
"As an object it's intriguing, but in reality it was a major headache to document and very difficult to digitize because of the detailed information," said Ms Uchida.
"Many of the 679 labels were really quite deteriorated and some had become distorted, or were just about hanging onto the pins so you couldn't really capture a detailed image by camera.
"The map had also become discoloured due to gases being released from the chipboard and people smoking over it while they plotted the air raids."
The map was held in the Engineering Department at Norwich City Hall for many years, but was moved to Norfolk Record Office in 2007 where it is now stored under controlled conditions.
Its data was used to form part of the national bomb census, a record of damage sustained during WW2 bombing raids across the UK.
During the conservation process, Ms Uchida removed the map from its mounting so it could be cleaned and repaired. The paper labels were all removed and washed in deionised water.
"I had to establish the water resistance of the ink - otherwise we'd have lost the information - but then washed them to remove their discolouring and improve the stability of the paper by removing the acidity from it," she said.
"The conservation and digitisation process is all about improving access to this unique record without any danger of damaging it further or compromising its preservation."
The digital images of the map can be viewed at the Norfolk Record Office but there are no plans for the physical map to go on public display.