Grandmother delivers baby at Alby Service Station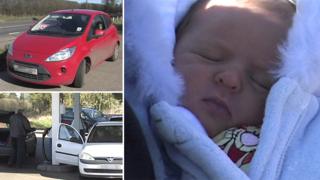 A woman has delivered her grandson on a garage forecourt in Norfolk.
Julia Macklin had to pull over her Ford Ka at Alby Service Station on the A140 as her daughter Chelsea Nelson gave birth on the front passenger seat.
Mason Cox was born at 05:50 GMT on Monday, just two hours and 20 minutes after his mother went into labour and more than 20 miles from hospital.
"I was driving fast - I thought if the police see me they are going to stop me and help me," said Mrs Macklin.
Despite his speedy arrival baby Mason, who weighs 7lbs (3.2kg), was born safely.
Mrs Macklin, 40, from Northrepps, near Cromer, said she had no mobile signal but was able to make a 999 call and was given instructions by an operator.
"He cried, he was breathing and I wrapped him in a towel," she said.
"I said to the operator, I'm in a Ford Ka and there's no room for anything as I was worried about the next stage with my daughter and I was panicking," she said.
The ambulance arrived about 10 minutes later and took Chelsea, 20, and her baby to the Norfolk and Norwich University Hospital where they were kept overnight.
Mason is Mrs Macklin's third grandchild and she said his swift birth was surprising as Chelsea, who lives in North Walsham, had spent three days in labour with her first son.
"I followed the ambulance in my car crying all the way to the hospital at the shock of what had happened," she said.
"I was so proud of my daughter and so honoured to be put in that position.
"If somebody had asked me to do it I would have said no, but now I would do it all over again."