University of East Anglia reveals threat to wild salmon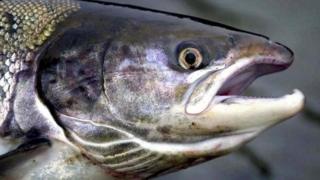 Farmed salmon should be sterilised to prevent their genes crossing into wild populations, a university study claims.
Genetically different captive salmon often escape, Professor Matt Gage from the University of East Anglia said.
Farmed fish are less adept at dealing with predators, a trait that could hit wild populations, he said.
Salmon farmers say escaped fish offer no threat because they have almost no chance of survival. They say sterilisation is economically unviable.
Chief executive of the Scottish Salmon Producers' Organisation, Scott Landsburgh, said: "Effective containment of fish is a fundamental part of good fish farming.
"The industry makes huge efforts to improve containment standards."
The possibility of sterilising the fish has been "under consideration for some time", he said.
"However, projects to look at viability continue to return serious questions of fish welfare and economic viability."
'Theoretical and unfounded'
The university said its studies showed 50% of populations in some Norwegian rivers were farmed salmon escapees.
If these fish revived natural spawning behaviour they could breed with wild populations, the research suggested.
Professor Gage said: "Farmed salmon grow very fast, are aggressive, and not as clever as wild salmon when it comes to dealing with predators."
Research using in-vitro fertilisation tests to mimic spawning in the wild showed the farmed salmon were as fertile as wild fish, he said.
Professor Gage said: "Anglers and conservationists are worried they could disrupt locally-adapted traits like timing of return, adult body size and disease resistance."
He recommends treating salmon eggs just after fertilisation so the fish grow as normal but with both sex chromosomes, which makes most of them infertile.
Mr Landsburgh said: "The survival rate of farmed salmon in the wild is virtually zero.
"There is no evidence that escaped fish have created any actual problems whatsoever for wild salmon.
"All the supposed threats are theoretical, and unfounded."