Norwich Cathedral peregrine falcon lays fourth egg of 2014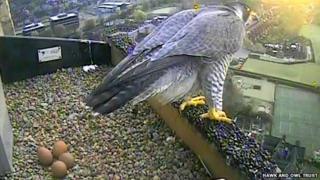 A fourth egg has been laid by a peregrine falcon nesting on Norwich Cathedral's spire.
The egg arrived at 03:30 GMT and was spotted on the live nest-cam when the female got up to resettle.
The first egg of 2014 was produced last Tuesday, with the second on Friday and the third on Sunday.
The Hawk and Owl Trust said although a clutch of three to four eggs is average, another one could arrive as the falcons were an "experienced" pair.
The current batch of eggs is expected to hatch in late April.
Lin Murray, from the trust, said: "Our pair are in the swing of it now and it would not surprise us if they had a fifth egg.
"They are an experienced, healthy pair and so another egg could appear in the next 48 hours or so.
"However, the average survival rate through to them successfully fledging the nest is two.
"Last year we had four chicks but two fledglings then died."
One chick broke its neck in a flying accident and another died due to feeding problems, but in 2012 three birds from the four eggs laid successfully left the nest.
In 2011, soon after the 75m-high (246ft) nesting platform was set up on the cathedral's spire, the female produced her first egg but it broke.
The first permanent recording of a breeding pair in Norfolk for hundreds of years was in 2010 at a granary site in North Lynn.
A watch-point at the cathedral, run by the Hawk and Owl Trust, will be open from 1 April to the end of June.
Last year more than 30,000 people visited the site.