Royal Norfolk Show school holiday to end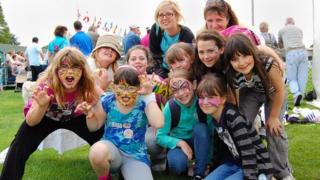 School pupils will no longer be given a day off to go to the Royal Norfolk Show as too few are attending, the county council said.
In 2012 a trial was set up giving all children the chance to visit on the Thursday with their families, in the hope it might promote ticket sales.
But the council said few children who originally went as part of organised school parties had attended since.
The authority plans to take back the holiday on the next academic calendar.
The Royal Norfolk Show is the largest two-day agricultural show in the country and regularly sees tens of thousands of people attend the Costessey showground on the last Wednesday and Thursday in June.
'Negative impact'
Norfolk County Council said the show's organisers had told them that instead of increasing visitor numbers, fewer children had actually attended the event since the trial started.
Head teachers also told them the changes had a "negative impact" on school attendances on the Friday, prompting fears that parents had used the day off as a chance to book a four-day holiday.
A spokeswoman said it "clearly wanted Norfolk's children to attend school regularly", so had "reviewed the arrangements" for 2015.
Norfolk County Council said: "The show committee feels that more children would attend as part of organised school parties if schools remained open during the event.
"We always said that the arrangements to have a holiday to coincide with the Norfolk Show were on a trial basis."
Greg Smith, chief executive of the Royal Norfolk Agricultural Association, said he "fully understood" the council's decision.