Norfolk WW1 practice trenches discovered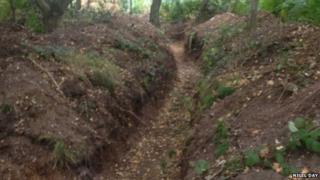 The remains of trenches believed to have been dug by soldiers preparing for the battlefields of World War One have been found on private land in Norfolk.
The trenches were discovered on the land at Bircham Newton, near King's Lynn.
Landowner and businessman Nigel Day at first believed the tracks on his land were drainage ditches.
But aerial photographs taken by the RAF in 1946 revealed the network of practice trenches.
Mr Day, owner of the Dreamy Hollow campsite, said he realised there was something "odd" about the land, so contacted Norfolk County Council's archaeology department.
James Albone, planning archaeologist for the council's historic environment service said the find was "very interesting".
He said: "Practice trenches on bits of waste ground were quite common around the county.
"But the ones at Bircham Newton are quite complex."
Describing his discovery Mr Day said: "We're clearing years of accumulated leaf mould at the moment.
"One of the trenches is about 7ft (2m) deep at the front, and as you go back into the supply lines goes to about 5ft (1.5m) deep.
"We found some odd features, such as a 16ft (5m) circular feature with two entrances into it that we think was a command centre."
Mr Day said he was keen to find out more about the history of the trenches.
"I know nothing about the men who dug and trained in them. All we need to unlock this mystery is a snippet of information to lead us in the right direction."
"It's got a character about it that just grips you, and when I've was down there cleaning out the trenches last summer I turned to my friend and said 'you realise the last people digging here were young men about to go off to war?'
"How many of those young men would never again see an English summer?"
Mr Day said he was keen to have the site looked at by archaeologists and may apply for a grant from the Heritage Lottery Fund.
"I want to have them dug out by professional archaeologists and then restore them to their original World War One condition," he said.