Norfolk helicopter crash: No technical problem found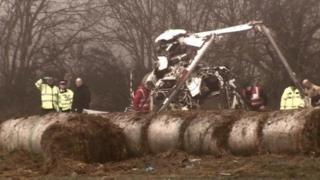 A helicopter that crashed in Norfolk killing four people had no "technical malfunction", investigators have said.
The Agusta Westland AW139 crashed in a field at Gillingham, near Beccles, on 13 March.
The Air Accidents Investigation Branch said no fault had been found with the helicopter, but visibility was said to be "in the order of tens of metres" due to dense fog.
It is continuing to investigate the crash.
Northern Ireland peer Lord Ballyedmond was killed, as were Declan Small and pilots Carl Dickerson and Lee Hoyle.
The report said the helicopter got to 125ft (40m) above ground level before it "pitched aggressively nose-down" towards the ground, crashing about 420m (460yds) from where it took off.
It said there "was no evidence that the helicopter had made contact with any other object prior to this point".
"The first ground marks, made by the lower nose structure of the helicopter and the nose wheels, indicated that the landing gear was down," the report said.
"The distribution of wreckage indicated that, immediately after the main rotor blades struck the ground, the helicopter became airborne again and rotated clockwise about the main rotor head before striking the ground 45m beyond the first ground mark."
The report said the helicopter "came to rest upright", 63m (68yds) from where it first hit the ground.
An initial examination found that both engines had been operating when the helicopter crashed.
The helicopter had left Lord Ballyedmond's stately home at about 19:24 GMT.
Mr Small, 42, from Mayobridge in County Down, was a site foreman for Lord Ballyedmond's company, Norbrook Laboratories.
Captain Dickerson from Lancashire and Mr Hoyle from Manchester were both pilots with Haughey Air Ltd, another of Lord Ballyedmond's businesses.