Norwich Cathedral peregrine falcons hatch fourth chick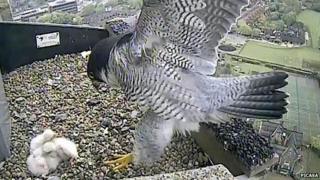 A fourth chick has hatched for a pair of peregrine falcons nesting on the spire of Norwich Cathedral.
The parent birds have used a specially-created platform 75m (246ft) above Cathedral Close, with their first three chicks hatching at the weekend.
The fourth and final chick hatched at about 11:00 BST on Tuesday, the Hawk and Owl Trust said.
It said the chick looked fit and well, as far as it could see from its webcam.
"The parent birds are very attentive and we now have five weeks of watching these stunning wild creatures grow until they are ready to fledge," said Leanne Thomas of the trust.
There are currently fewer than 1,400 breeding pairs of peregrine falcons in the UK.
Four chicks hatched in 2013, the second brood in the city since 2011 and among the first in 200 years.
A watch-point at the cathedral, run by the Hawk and Owl Trust, is open until the end of June.