Large fire at Fakenham factory shop destroys buildings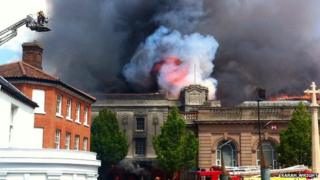 A large blaze has destroyed a factory shop and damaged several other buildings in a Norfolk town centre.
One hundred firefighters tackled the fire at its height in Fakenham's Market Square after it began at 10:15 BST.
Eyewitness Andy Hogan said he saw the front windows of the factory shop blow out in an explosion and flames rising 16ft (5m) above the roof.
One building has partially collapsed but the blaze is now under control, Norfolk Fire and Rescue Service said.
Crews are expected to be at the site throughout the night until the fire has been dampened down.
Nearby homes had to be evacuated and some roads shut after the blaze took hold.
Two people have been treated by paramedics for the effects of breathing in smoke.
An evacuation centre has been set up in the nearby Fakenham Connect building for those affected by the blaze, North Norfolk District Council said.
Mr Hogan said he was at a cafe about two doors down from the shop at 10:15 when he heard "crackling and popping" and saw black smoke.
He said there were "small explosions" inside the shop and another followed which blew out the front windows. A car outside then caught fire.
He said a number of staff were outside the shop in shock.
BBC Radio Norfolk reporter Jill Bennett said the fire created a huge plume of smoke that could be seen all over the town.
She said crews were pulling up water from the river at the bottom of the town to tackle it.
The fire commander at the scene, David Ashworth, told the BBC the blaze had damaged six or seven properties and that people living in flats in the terrace had to be helped to safety.
He said some people were treated for minor injuries by first aid teams, and that crews had since restricted the blaze to the shop where it originally started.
Mr Ashworth said it was "devastating" the buildings were in one of the oldest parts of the town, but it could have been an "awful lot worse" as the premises contained a "significant amount" of timber.