Dr Henry Mannings cleared by GMC over chemotherapy claims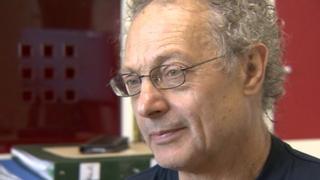 A doctor who offers a "second chance" to cancer patients through his Norfolk charity has been told he will face no further action following an allegation he gave unauthorised chemotherapy.
Dr Henry Mannings faced a complaint from an oncologist regarding two patients at Star Throwers in Wymondham.
The General Medical Council (GMC) said he had been cleared of all allegations.
Dr Mannings said the 18-month inquiry had affected patients' lives and almost cost him his career.
'Heart-breaking'
"I became extremely depressed," he said.
"We had to stop treatment on a number of patients who were doing exceptionally well, and that was heart-breaking."
Dr Mannings has treated hospital cancer patients for more than a decade, and set up Star Throwers to give a second chance to terminally ill people told palliative care was the only option.
He was called to a GMC hearing in March last year, which heard Norfolk and Norwich University Hospital consultant Dr Tom Roques had written a complaint letter.
He alleged Dr Mannings had given chemotherapy without authorisation to two patients, Rachel Lane, 27, and Thelma Dowsett, 78.
Both women, from Wymondham, died in October 2012 but their families believed Dr Mannings' treatment gave them extra weeks of life.
Dr Mannings denied the allegation and said he did not use chemotherapy, but a drug used for treating rheumatoid arthritis.
As part of the investigation, he was banned from prescribing drugs.
The 18-month disqualification was revoked after just two months, in January last year, after the Medical Practitioners Tribunal Service heard objections from patients and their families.
'Opposing sides'
The GMC said it had a duty to look into complaints and concerns.
Dr Roques has not commented.
Ms Lane's sister Amanda Lansom said: "We're so pleased Henry has been cleared.
"We couldn't have faulted anything he did for Rachel."
Dr Mannings said he planned to complain to the GMC, but said his patients were his priority.
"People suffering from cancer do not need two opposing sides," he said.
"We need to work together for their well-being.
"If it wasn't for the staff and patients here I would've thrown in the towel."