Hunstanton Sea Life Sanctuary to reopen in October after surge damage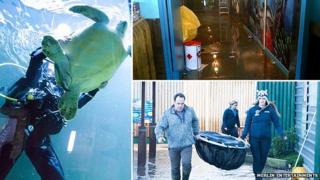 Sharks, tropical fish and penguins rescued from a Norfolk Sea Life Sanctuary during a North Sea tidal surge will return during the summer.
The sanctuary at Hunstanton is to reopen in October after a complete clean-out and refurbishment.
The sea broke into the building in December last year, taking a giant glass panel off its mountings, and "battered" animal life support systems.
Rescued animals will return to newly-restored habitats.
Senior marine biologist Daz Gook said after the tidal surge that contamination risks meant livestock had to be moved to other sanctuaries as "a priority".
The sea had damaged life support systems at the centre on South Promenade, leaving animals vulnerable, the sanctuary said.
The rescued animals were taken to Great Yarmouth Sea Life Centre or to quarantine facilities in Weymouth, Dorset.
Once the new work is ready, more than 3,000 fish and other creatures will be moved back into the building
It is hoped the centre's 11 sharks, six penguins and green sea turtle will also be moved back to their new habitats.
A giant window protecting the otter enclosure bore the brunt of the waves during high tides in December.
It broke away from its mountings allowing the sea to inundate the building.