Norfolk A11 motorcyclist caught speeding at 134mph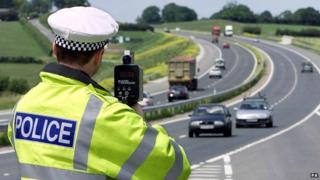 A motorcyclist was caught riding at 134mph on the A11 in Norfolk, one of the highest speeds recorded by a speed camera in the county in the past year.
The rider, who is in his mid-20s, is due to be summonsed to court to face charges over the incident last month.
The highest speed recorded by a fixed camera in Norfolk in 2013-14 was 121mph, the Institute of Advanced Motorists said.
Sgt Andy Spall said riders who took extreme risks were "dicing with death".
The rider has not been named but has been summonsed for offences for speeding and failing to stop at a red light over the incident at about 03:00 BST on 26 May.
A court date has not been set.
Last week, the Institute of Advanced Motorists revealed speeding figures for 2013-14 and said 121mph had been clocked on the A47 and A140 in Norfolk and 118mph on the A14 in Suffolk and the A14 in Cambridgeshire.
Norfolk Police said the camera used in the A11 case was mobile and figures were not held.