Norfolk project hopes to return WW2 dog tag to chef's family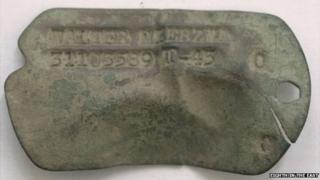 Researchers are trying to trace the relatives of a US air force chef whose World War Two dog tag was found during construction of a wind farm.
Walter Mierzwa's tag was uncovered near RAF Attlebridge in Norfolk.
Volunteers with the Eighth in the East project have discovered he was born in New York, was a mess sergeant and returned to the USA in July 1945.
Project manager David Cain said the "ideal situation" would be to reunite the dog tag with the sergeant's family.
The Eighth In The East records the legacy of the US Eighth Army Air Force (8th AAF) in East Anglia during WW2.
RAF Attlebridge was one of many bases used by the Americans.
Since discovering the dog tag, volunteers have found out the sergeant was born in New York in 1912 and was living in Hartford, Connecticut, at the time of his enlistment in 1942.
He was the mess sergeant in charge at RAF Attlebridge and returned to America on the Queen Mary, arriving in New York on 11 July 1945.
Mr Cain said: "It's a complete dog tag and tells us his religion, so we know that he was Catholic, and that he had been inoculated for typhus."
Mr Cain said he would also like to find out more about how Sgt Mierzwa lost the identity disc.
"He either lost it - or what we've found is that often they would swap dog tags to get on to a mission or get out of a mission," he said.
He added: "Our ideal situation would be to trace his relatives and we'd be happy to return the dog tag, but now we need help with tracking them down."