Norwich novel success shows small publishers finding ways to thrive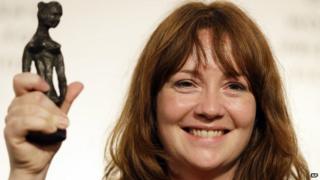 Independent publishers are facing more competition than ever before, so how are they surviving in a digital world dominated by giant corporations?
When author Eimear McBride won the £30,000 Baileys Women's Prize for Fiction with her debut novel, A Girl is a Half-Formed Thing, it was not only a success for her but also for the independent publisher Galley Beggar Press.
The small firm, which has its headquarters in a terraced house in Norwich, was willing to take the risk when other mainstream publishers had passed.
Ms McBride said: "I couldn't be happier about the success of A Girl is a Half-formed Thing. Galley Beggar Press took a huge risk in publishing it and deserve nothing but praise for their courage, vision and good old-fashioned hard work."
Sam Jordison, co-director of Galley Beggar Press, said: "I heard one editor (at a publishers) loved it, but somewhere along the line the marketing man did not like it."
He said the reason they backed the novel was that "we believed in our readers much more than other book publishers".
The novel tells of a young woman's relationship with a brother afflicted by a childhood brain tumour.
"What drew us to it is it is a fantastic work of art, it is engaging and intelligently different," he said.
Galley Beggar Press was started in 2011 by Guardian books journalist Sam Jordison, his wife, writer Eloise Millar and Henry Layte, who runs the Book Hive bookshop in Norwich.
Its remit was to "publish titles with potential that bigger publishers have shied away from taking a risk on".
McBride's book was their second publication. They recently launched their fourth - Randall by Jonathan Gibbs - an alternate history satire set in the art world of the 1990s.
"She (McBride) is a one in a million find for any publisher, that is the reason it has done so well. It is a fantastic work," said Mr Jordison.
"We thought we were prepared to go bankrupt with this book... It was almost a duty. It was a risk. Obviously, with hindsight, it all paid off."
He likens the success of small publishers to micro-breweries providing the public with tastes not provided by the larger firms.
"There is very much a place for small publishers. Things are hard in the publishing industry... and it is harder for big publishers to take risks," he said.
Bridget Shine, chief executive of the Independent Publishers Guild - which represents both small and large independent publishers - said smaller firms could give more time to "nurturing their authors, having a more direct relationship".
"They can also move much quicker and with less bureaucracy," she said.
She added that independent publishers were particularly successful with specialist publications and were often set up by people with specialist knowledge.
Jonathan Barnes, editorial director of John Catt Educational - a small publisher based in Woodbridge, Suffolk - said: "What Galley Beggar Press have achieved - uncovering a gem that everyone else has overlooked - is every small publisher's dream.
"Even then it takes a lot of hard work and perseverance to get the world to take notice: to get reviews, to get copies into bookshops and to get people talking about your book, which is ever important in the age of social media. So it's a fantastic achievement.
"It's a very competitive market and we don't have anywhere near the production and marketing budgets of the big publishing houses. The major distributors also command significant discounts, so it's a tough environment for small independent publishers, and the industry has lost some really good companies."
For Mr Barnes the recipe for success for small independent publishers is simple.
"What's important is that publishers have great passion for what they do and concentrate on what they're good at," he said.