Cities should follow Norwich Cathedral peregrine falcon project success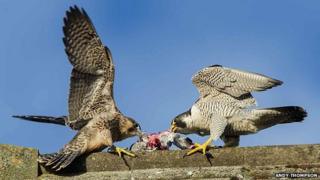 The success of a cathedral peregrine falcon project should be repeated at sites around the country to help boost numbers of the once threatened species, said wildlife expert Chris Packham.
Ten chicks have fledged from a platform on Norwich Cathedral since 2011 but there should be a "concerted project" to set up sites elsewhere, he said.
"If you own a tall building ... you should be putting up nest boxes."
The RSPB reports there are currently 1,500 breeding pairs in the UK.
Despite all four chicks fledging from the Norwich Cathedral nest, experts from the Hawk and Owl Trust confirmed a chick from the 2014 brood died on Thursday.
"Peregrines have made a remarkable recovery and are nesting in many cities around England," said Mr Packham, who has just finished presenting Springwatch from RSPB Minsmere in Suffolk.
"Historically the pesticides crisis hit hardest here [the east]... Now they are nesting in our towns and cities there's no reason why they shouldn't be spreading further as there are big enough buildings in many places."
A survey of breeding peregrines in the UK is currently under way by the The British Trust for Ornithology (BTO) based in Thetford - the sixth survey since 1961.
Peregrine numbers have recovered from the detrimental effects of pesticides in the 1950s and 1960s and reached a high of 1492 occupied territories at the time of the last survey in 2002 - there were none in East Anglia.
"Peregrines have expanded in range in lowland England, making use of new sites such as pylons, cathedrals, churches and factory buildings." said Dawn Balmer from the BTO.
"The 2014 survey will cover all known territories and also visit a sample of randomly selected squares to check for birds in a range of natural habitats and on man-made structures.
"It's pleasing to hear that new pairs have been found this year, including birds in East Anglia"
Results from the BTO survey will be available at the end of the summer.